Every Tuesday
Traci66
hosts Tell Me More Tuesdays, a fun blog meme where you answer five questions that are posted.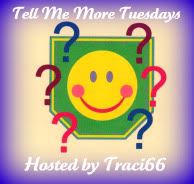 >
This week's five questions are:
1. Have you ever ate a bug, or anything else that isn't food?
I try to keep non-edibles out of my mouth.
2. Colors, do they make you think of anything? ex:Purple=Passion
Black = gloom, moody
Green = in the mood
Red = fire, tempered
3. Do you decorate for the holidays?
I used to go all out, but my oomph seems to diminish gradually over the years.
4. If you were one of the 7 dwarfs, which one would it be? (I saw this one somewhere).
Depends on the day as to which one I'd be. Right now I'm Sleepy.
5. Beef, Pork or Chicken?
I like all three, but I'd go with pork if I had to make a choice.