I took my 16 year old daughter to the dentist yesterday. My pocketbook almost screamed. She has cavities in EVERY tooth except one. Between me and her, we'll be living part-time at the dentist in the next two months.
I got a haircut last Friday. I asked the stylist to point cut it to give some texture and volume. She did as instructed, but I don't care for the overall look of it. I'm going to go back to just cutting my hair myself. I can do the same results for free.
I'm participating in some blog hops today and would be elated if you became a follower. If giveaways interest you, I have some listed at the top left hand side of my blog.
Welcome Wednesday hosted by
Frugal Invitation
and
Beauty Brite
Wobble Over Wednesday hosted by
My Life With Rats and More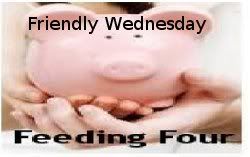 Friendly Wednesday hosted by
Feeding Four