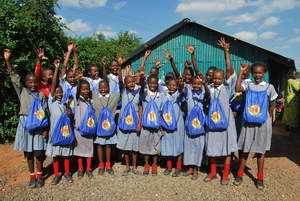 Can you imagine missing school as a young woman because you didn't have access to sanitary protection? Girls in Kenya often miss up to five days of school a month because of their period. (Source: Oxford University Study, 2010)
For millions of adolescent girls living in underdeveloped countries, sanitary protection is a luxury item. The lack of affordable, sustainable feminine care products can have devastating consequences for these girls, resulting in gaps in their education, and an increased vulnerability to poverty and disease. Huru International, a non-profit organization, in partnership with the o.b. Brand, is helping to raise awareness of this issue and provide the necessary personal care items to help safeguard these young girls' health, and educate them on important issues like HIV.
Through a viral Facebook campaign – Share-It-Forward – the o.b. Brand will donate up to $25,000 to Huru International.
For every individual who shares the message about Huru International's cause via the o.b. Outreach tab on
Facebook.com/obmightysmall
, the o.b. Brand will donate one dollar to Huru International, with a minimum donation of $10,000 and a maximum donation of $25,000. For every $25 donated, Huru can supply one girl with sanitary protection and other essential items for one year.
Just go to the o.b. Outreach Tab on the mighty.small.movement
Facebook Page
and click the pink "Click to Share" button to post the message on your Wall!
*Donation not valid for consumers living in Alabama, Maine, Massachusetts, and South Carolina. Limited to one share per consumer.
I received no compensation for this post. This post is for informational purposes. Please do your own research before purchasing products or using services. Your opinions and results may differ from mine.