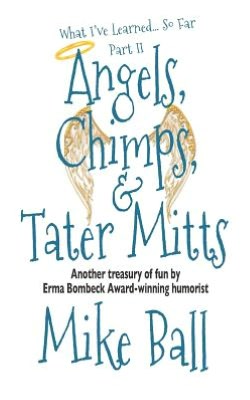 Book Synopsis:
For years the essays of award-winning humorist Mike Ball, published under the title "
What I've Learned So Far
..." have evoked laughter and tears in readers all over the world. Mike's sharp wit, blended with his gentle homespun style, has been compared to Mark Twain, Erma Bombeck, Dave Barry and even Ernie Pyle. One reader said, "Mike Ball can make me laugh and cry in 400 words." Angels, Chimps & Tater Mitts is a compilation of more than 80 columns, dealing with topics ranging from Bill O'Reilly to driving in Japan. This is second What I've Learned... So Far book. Volume I, Bikes, Docks & Slush Nuggets, was published in the fall of 2009.
About the Author:
Mike Ball is an award-winning humorist who writes the internationally popular weekly syndicated column "What I've Learned So Far..." He lives and writes on the shores of Whitmore Lake, Michigan, sharing a roof with his wife and a psychotic Siamese cat. He is a member of the National Society of Newspaper Columnists, the recipient of the 2003 Erma Bombeck Award, and a finalist for the 2011 Robert Benchley Award. Mike's first book, "Bikes, Docks & Slush Nuggets," is Part I of the "What I've Learned... So Far" trilogy. In addition to cranking out his humor column and books, Mike is a musician. As front man for the band Dr. Mike & The Sea Monkeys, he plays guitar, banjo, ukulele, djembe, slide guitar, and F# Shaker Egg. The band has been described as John Prine meets Jimmy Buffet, and features songs based on Mike's columns and books, such as, "At Least I've Got Most Of My Hair," "Carlson the Pissed Off Angel," and "The Colonoscopy Song." Mike is also the founder of Lost Voices, a Michigan non-profit group that takes therapeutic roots music writing and performing programs to incarcerated and at-risk youth. For this work he was awarded the Kindness Community Hero Award from USA Today.
My Review:
Angels, Chimps & Tater Mitts
is what I could call a "bathroom reader". The compilations are just long enough to keep you occupied while spending time in the restroom. There are several topics covered in this book. My fave story was of a guardian angel who wasn't quite sure of his place, until when it was revealed years later. The compilations will make you chuckle, a few will pull at your heartstrings, and others are deeper in seriousness.
I received book for review. The opinions within this post are of my own and I was not influenced in any way. Please do your own research before purchasing products. Your opinions and results may differ.