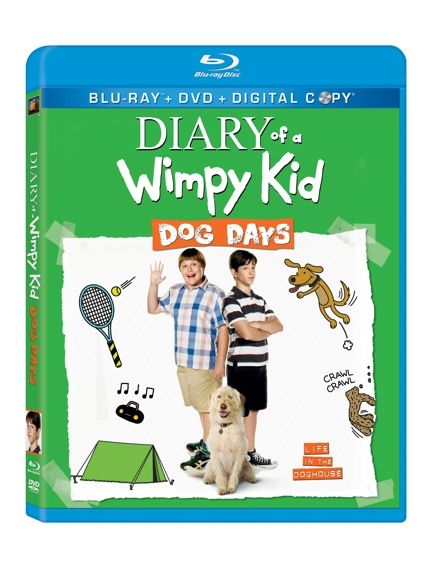 Relive your summer this December 18th with Diary of a Wimpy Kid: Dog Days on Blu-ray, DVD and Digital Copy.
Everybody's favorite wimp, Greg Heffley (Zachary Gordon), is back for three times the fun in the latest film based on the super-popular book series! When Greg's dad (Steve Zahn) threatens to send him to military school if he doesn't stay out of trouble, Greg finds all-new ways to land himself in the doghouse! For starters, Greg's in over his head when he pretends to work at the swanky country club where Rowley's family has a membership. Things don't go much better on a father-son camping trip with the Wilderness Explorers, and then there's the Heffley's new dog, Sweetie, who fetches even more trouble for Greg in this hilarious family film!
Greg and his friends Rowley, Chirag and Fregley often find themselves in trouble as they try to have the most relaxing summer yet. In this feature, we will highlight other bands of misfits in films including those from The Goonies, Super 8 and The Little Rascals.
The Goonies
The 1985 adventure-comedy film The Goonies follows a group of neighborhood friends who are on a mission to find forgotten treasure in order to save their homes from being demolished. Using an old Spanish map, a newspaper clipping, and artifacts found in an attic, the boys trek the Oregon coast looking for the treasure they believe belonged to the pirate known as One-Eyed Willie. After surviving several booby traps, the group eventually finds One-Eyed Willie's ship filled with treasure and gold but realize they are not the only ones who want it.
Super 8
J.J. Abrams' sci-fi flick chronicles the journey of teenage friends who discover a huge alien operation when trying to film a small-budget zombie film. They witness a terrifying train crash that is surrounded with small, white cubes that seem to have appeared from nowhere. Following the crash, several strange events happen around town including dogs running away, people disappearing, and electronics being stolen. They got caught up in all the alien action and manage to make a pretty epic film.
Little Rascals
One of the rowdiest gangs in film is the "The He-Man 'Womun' Haters Club" from the 1994 classic Little Rsacals. The boys-only team is led by Spanky, a loud-mouthed kid who is determined to win the local go-cart race. He rallies his troops who include the love-stricken Alfalfa, the methodical vice-president Stymie, and the most adorable member ever, Buckwheat to name a few. Despite their cute looks and small statures, these rascals find themselves in plenty of trouble from crashing a dance recital, to ruining romantic boat rides, and even setting their clubhouse on fire.
The Sandlot
The boys of the Sandlot think they rule the town when it comes to the game of baseball in the 1993 sports comedy. The teenagers find themselves in plenty of mishap as they are figuring out how to be grown men during the summer of '62. Some misadventures include risking drowning in order to be saved by the hot lifeguard, trying chewing tobacco at the city fair, and stealing a baseball signed by Babe Ruth in order to keep a game going. All in all, the boys of the Sandlot have one heck of a summer that they will never forget.
Diary of a Wimpy Kid: Dog Days
Greg Heffley seems to get into trouble no matter where he goes especially with his friends Rowley, Chirag, and Fregley. The boys cause a ruckus at all the favorite summer spots including the local country club, Rowley's family beach house, a nearby amusement park, and in the great wilderness while on a camping trip. The addition of Greg's new family dog doesn't make matters any better for the group but seems to cause even more trouble! The boys' shenanigans take place throughout the film, even to the end when Greg attempts to impress his crush at her sister's 16th birthday party.
Win It!
Two people will win
Diary of A Wimpy Kid: Dog Days
on DVD.
*This is a Rafflecopter giveaway open to residents of the USA and Canada.*
I received no product or compensation for this post. Please do your own research before purchasing products or using services. Your opinions and results may differ.
a Rafflecopter giveaway