Book Synopsis:
Social media commerce is a booming industry. By using social networks in the context of e-commerce transactions, brands large and small are making their products more available and more convenient for customers. This one-of-a-kind guide introduces you to social media commerce and explains how you can use social media to provide better customer service, collect payments online, and build your customer base. Online marketing expert Marsha Collier helps you determine where you have the best opportunity to reach your market, which sites you should integrate with, and much more.
•Your customers are communicating with each other via social media; making purchasing opportunities available on social media sites adds convenience for your customer and opens up new sales opportunities
•This step-by-step guide explains social media commerce and shows what you can accomplish
•Helps you determine the sites where your business should have a presence
•Demonstrates how customers can help promote your brand as they recommend products and services to others on their social networks
•Author Marsha Collier is the undisputed expert on eBay and a recognized authority on social media marketing
Social Media Commerce For Dummies
helps you offer your customers better service while giving them the opportunity to share information about your product with their social media contacts.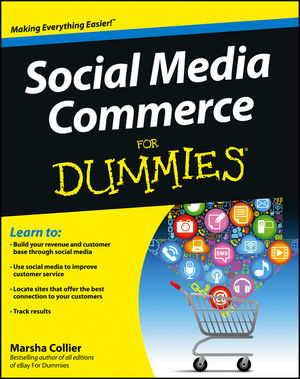 My Review:
I've been blogging for a little over three years now and am always looking for new ways to reach out to more subscribers and followers. Although
Social Media Commerce For Dummies
is targeted mainly for profitable companies, it was also very helpful to me as a blogger. I learned several new pieces of information and got refreshers on some things I already knew. The sections on "Monitoring Your Online Reputation" and "Ten Ways To Build an Online Presence Now" were particularly helpful to me. I also gained some knowledge on the laws and regulations regarding social media commerce that are helpful to me when working with companies and writing blog posts. I've highlighted several areas in the book and will be using the book time and time again for reference.
I received book for review. The opinions within this post are of my own and I was not influenced in any way. Please do your own research before purchasing products or using services. Your opinions and results may differ.