If you're looking for a functional and fun stocking stuffer for your kids, ARM & HAMMER Oral Care has something, to ensure all your loved ones enter 2013 with a bright, white smile.
ARM & HAMMER has launched an exciting new product for kids this year! This holiday season, give tweens the gift of a private concert... in his or her mouth! ARM & HAMMER Tooth Tunes is a brand new toothbrush that uses patented technology to deliver sound through the inner ear while brushing that only the user can hear. Each brush plays two minutes of music, which is the dentist recommended length of brushing. Songs include "Only Girl (in the World)" performed by Rihanna, "Dynamite" performed by Taio Cruz, "One Day" performed by Cody Simpson, and many more songs kids will love. There are currently nine different
Tooth Tunes
available.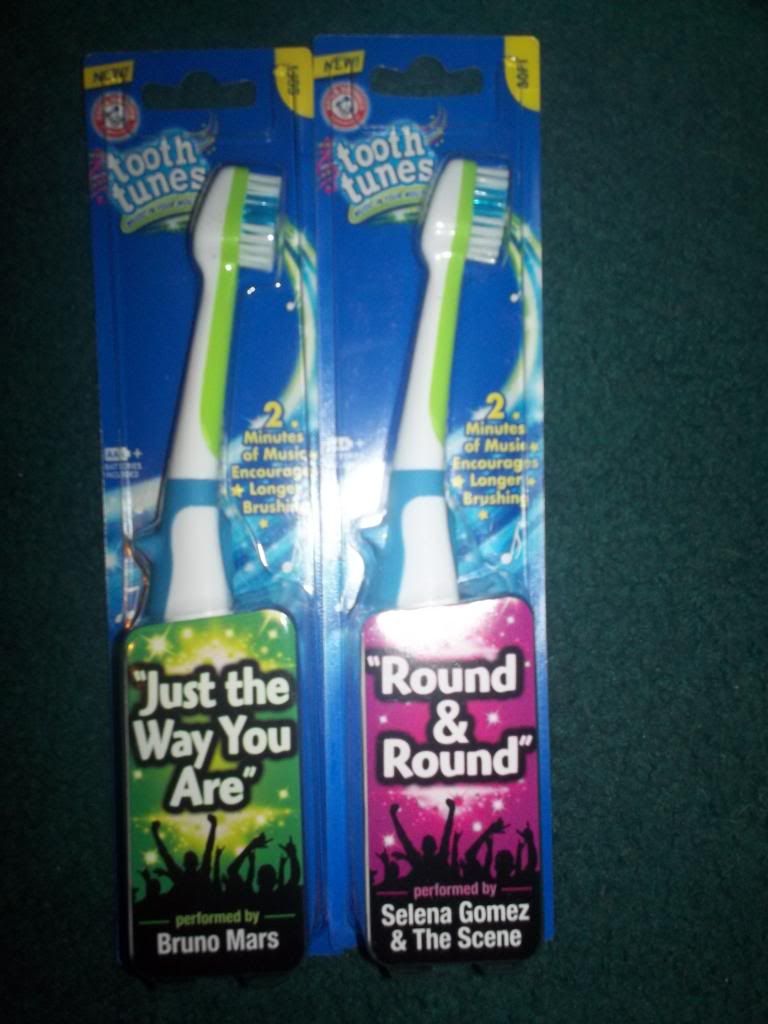 My kids are at the age where toothbrushes with cute characters just won't cut it but adult toothbrushes are too boring. Tooth Tunes caters to their age groups and makes brushing fun for them. Adam has the "Just the Way You Are" Tooth Tunes toothbrush played by Bruno Mars and Emma has the "Round & Round" Tooth Tunes toothbrush played by Selena Gomez & The Scene.
There's a button on each toothbrush that plays music when the button is pushed. It plays the lyrics along with the tunes, just as you'd hear it on the radio or a CD. Each tune plays for two minutes, the time a person should spend brushing their teeth each use. While Adam and Emma are brushing their teeth, they can actually feel minor vibrations from the music so they get a full sound effect. The toothbrush heads are not replaceable so the toothbrushes have to be discarded like any other manual toothbrush does when it's "wear and tear" time is up. I don't have to nag at Emma or Adam to brush their teeth. They happily do it every morning and I believe it's because their time is occupied listening to music they like and their brains aren't thinking about toothbrushing being a chore.
I received products for review. The opinions within this post are of my own and I was not influenced in any way. Please do your own research before purchasing products or using services. Your opinions and results may differ.