There's an endless amount of recipes to make during the holiday season but now that the celebrations have come to a close, what will you do with all these leftovers and ingredients taking up space in your pantry and refrigerator?
The following are just a few suggestions that can be found on the HormelFoods.com recipes page that feature some very common ingredients and leftovers. Whether you have a surplus of ham and turkey waiting to be enjoyed or common side dishes like potatoes and corn, these recipes are perfect for repurposing them in a creative and delicious way.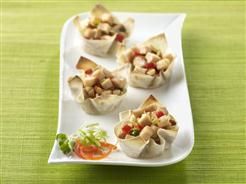 Recipe: Almond Turkey Cups
Leftovers: Turkey
Instead of creating that typical sandwich, utilize your turkey leftovers in a new and creative way by filling CHI-CHI'S 6 inch Fajita Tortillas with a mixture of turkey, veggies and sauces.
Recipe: Cheesy Ham and Corn Casserole
Leftovers: Corn, Ham
Combine your leftover corn with chopped Cure 81 Boneless Ham for a delicious, satisfying casserole. This easy-to-make recipe doesn't require bulky ingredients that will take up even more room in the refrigerator and is perfect for lunch or dinner.
Recipe: Scalloped Potatoes and Ham
Leftovers: Potatoes, Ham
Have leftover potatoes that you didn't end up mashing? Combine them with Cure 81 Boneless Ham and Hormel Real Bacon Pieces for tasty Scalloped Potatoes and Ham.
Additional Tips for Enjoying Leftovers
Get creative with casseroles and pot pies:
A variety of meats, vegetables and starches can be blended together to make a delicious casserole or pot pie, including turkey, green beans and even left over gravy can be incorporated to add extra flavor.
Stews and soup for a school-night dinner:
Stews and soups are simple to make with leftover proteins and vegetables. Instead of eating right away, freeze them for after the holiday break for a quick and easy school-night dinner.
Don't want to end the celebrations?:
Invite friends and family over for a "Last of the Leftovers" feast. Everyone can bring the dishes they have in their refrigerators to enjoy while toasting to a successful holiday season.
What's the most common ingredient or dish that you have left over after the holidays? What's your favorite Hormel Foods product that you used in your holiday meal? Would you rather not have holiday leftovers, or do you enjoy having a stocked fridge even if it results in repeated meals?
I wrote this post as a participant in the Hormel Foods Extended Family Blogger program. The opinions within this post are of my own and I was not influenced in any way. Please do your own research before purchasing products or using services. Your opinions and results may differ.