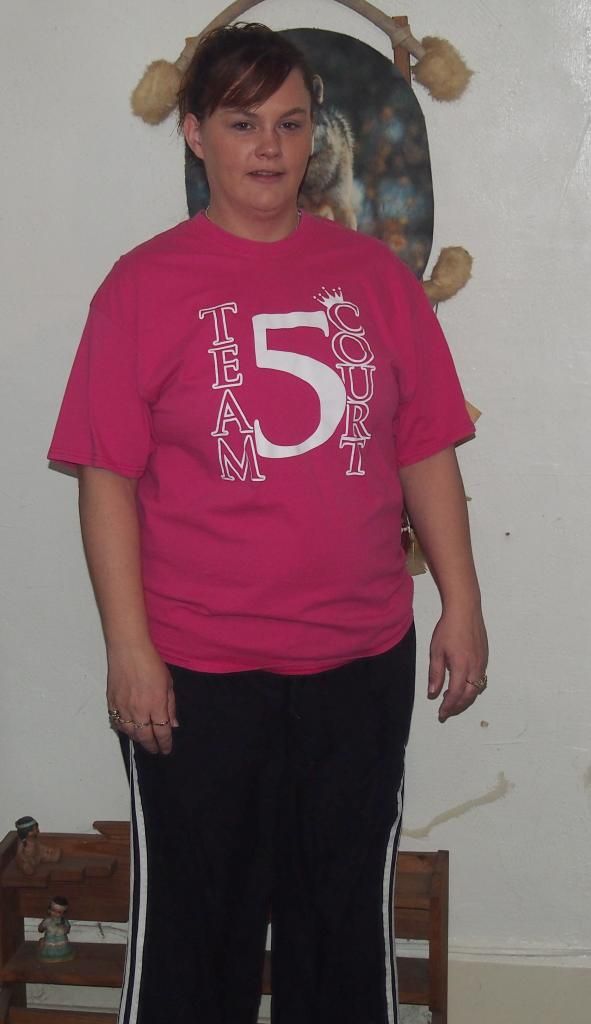 Never mind the unkempt hair and sans makeup. This is me yesterday, at 194.9 pounds. Pretty embarrassing. It's time I take accountability for myself, and what better way to do so than post an atrocious pic of myself on my blog.
At no point past the age of 13 have I been skinny. My body battles more with me in the winter than any other season. I'm like a sloth in the cold months, alternating between eating and sleeping, eating and sleeping. And watching a few episodes of TV. My idea of exercise is running the vacuum throughout the house. During camping season (April 1 to November 1) I'm a little more active because I'm outside quite a bit, doing more things. Still yet, my weight is pretty unideal.
Deciding to no longer be tubbies, my hubby and I enrolled in mixed martial arts and fitness classes at the local martial arts academy. Two days a week is mixed martial arts and two days a week is fitness. We started Monday. The first ten minutes in, I wanted to quit. No joke.
Monday I learned that I don't like to run unless I'm being chased. I also learned where the nearest exit was, because I was ready to high bolt it out of there. I'm in a class where only four out of thirty people have muffin tops. The rest have abs of steel and six-packs. I was pretty sure I didn't belong. If it wasn't for the support and patience of my husband and the positive energy of the people around me, I would've hightailed it out of there and wallowed myself in food.
The hour-long session kicked my arse and showed me just how out of shape I am. The realization literally smacked me in the face. After our class, we stopped at a gas station to get fuel for the vehicle. While Jason was pumping gas, I ran to the gas station bathroom and had a nervous breakdown. I cried like a little girl. I was embarrassed of how I looked against the other people and ashamed of who I was. I felt defeated.
Today I bucked up and attended the adult fitness class. It was equally as hard but I was more mentally motivated. I pressed on and carried through. There were people of all size and stamina. There were a couple times I would've preferred death to what I was doing but found the strength to carry on. It was me who had to motivate my husband when class was over. He was hurtin' for certain.
This is already one of the hardest things me and Jason have done, and we're only two days in. It's mentally and physically exhausting. I've worked muscles I didn't know existed. I am determined though. It's time to make lifestyle changes and feel comfortable in my skin. I will not quit!
I received no product or compensation for this post. The opinions within this post are of my own and I was not influenced in any way. Please do your own research before purchasing products or using services. Your opinions and results may differ.