Book Synopsis:
The iPad was an overnight sensation and now it's simply indispensable. Whether you use it for work, play, or everyday life, the new iPad is packed with even more features and power than ever. In this fun and practical guide, veteran For Dummies author Nancy C. Muir walks you through the latest features and functions, including what the new iOS6 software brings to the table. Go beyond the basics, get serious about using your iPad for all it's worth, and don't miss the ways to have fun with it as well. This book covers it all, and in full color!
•Covers the third-generation iPad, iPad 2 and original iPad and is fully updated for iOS 6
•Packs six minibooks in one full-color guide: iPad Basics, Just for Fun, iPad on the Go, Getting Productive with iWork, Using iPad to Get Organized, and Must-Have iPad Apps
•Explores the latest iPad and iOS 6 features, including Siri, Passbook, FaceTime video calls over cellular, a brand new Maps app, Facebook integration, and more
•Walks you through enhanced functions, such as improved e-mail with a VIP inbox and new iCloud browsing tabs
•Shows you how to use iWork and other productivity apps to dress up your documents, create stellar spreadsheets, add pizazz to your presentations, and maintain your schedule on the run
•Covers the best-of-the-best business, travel, educational, news, weather, and financial apps
Your world is just a touch away with iPad and
iPad All-in-One For Dummies
, 5th Edition.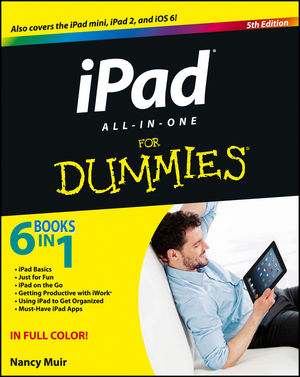 My Review:
I recently won an iPad mini on a Twitter contest and was somewhat befuddled by how to use it. I'd never owned a gadget like it before. Although I can work a computer just fine and am keen on some technology, the iPad mini was a whole new ballgame for me. The iPad All-in-One For Dummies book came just in time.
At 640 pages, the book is very lengthy but it is well organized by topic. It covers everything from the basics to enhanced features. It even includes a chapter on what to look for when buying an iPad, for the shoppers who are looking and don't have one yet. This guide is written in a way that you don't have to read the whole book if you don't want. You can skip to the content that is pertinent to you. The wording is easy to understand and put in layman's terms. I've read the book in entirety and found it to be very useful. I'm going to keep it to look into for future reference when questions about my iPad mini may arise.
I received book for review. The opinions within this post are of my own and I was not influenced in any way. Please do your own research before purchasing products or using services. Your opinions and results may differ.