**Are you under the age of 18? Are you easily offended by talk of s*x? If so, leave this post now. Although the images are decent, the links will take you to an adult oriented site. There's your warning.**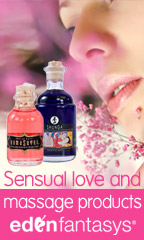 EdenFantasys is known for their adult toys, lingerie, and other merchandise of adult nature. Whether you're into soft and sensual or wild and kinky,
EdenFantasys
has you covered. Even if the thought of all that makes you uncomfortable and you'd never imagine visiting a site for those kinds of products, don't rule out EdenFantasys just yet. What you may not know is that the company also sells makeup, skincare and massage items.
For instance, the
Coochy Protection - Aftershave
is a skin-soothing spa formulation that's specially formulated to form a protective barrier between shaven skin and clothing. Botanical ingredients produce a natural, delicate fragrance. The name may make you think it's a product for your coochy, and it can be. But it can also be used on your legs, underarms, and anywhere else you shave.
The skin on my legs and underarms isn't usually sensitive after shaving, but I still use the Coochy Protection - Aftershave for a silky feel. The same can't be said for my bikini line. I get bumps and irritation from shaving there. Spraying Coochy Protection on my coochy after shaving has relieved the irritation. I don't have near the problems I used to and can now have as clean shave there as I do anywhere else. It has a floral scent and dries fairly quickly. Due to the name, though, I keep it put away so the kids don't have questions about it.
EdenFantasys is discreet in that all orders are sent to the buyers in a package that does not indicate in any way who it's from. There are many search options to aid in finding what it is you're looking for There are detailed specifications and user reviews for each item they sell. Their toys, books, sexy lingerie, and other products have been chosen to appeal to people of all genders, ages and orientations. A free gift with every order and special promotions are always available.
I received product for review. The opinions within this post are of my own and I was not influenced in any way. Please do your own research before purchasing product or using services. Your opinions and results may differ.