I received products for review. The opinions within this post are of my own and I was not influenced in any way. Please do your own research before purchasing products or using services. Your opinions and results may differ.
This past week I've been at two events where I took Miss Dottie's Pound Cakes and shared them with others. One of the events was pleasant, a Thirty-One party at the campground. The other event was sorrowful, a luncheon after a funeral of a teenager who passed away. Through the happiness and cheer of one happening to the sadness and sharing of memories at another,
Miss Dottie's Pound Cake
was well received and garnered several compliments for its deliciousness and freshness.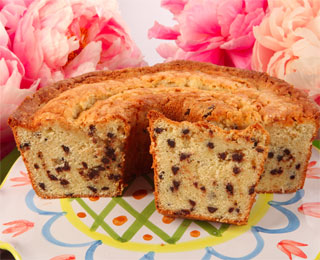 If you're looking for a moist, delicious and fulfilling dessert or cake for a special event or even to consume with family on a regular night, I'd like to suggest Miss Dottie's Pound Cake. I was given the opportunity to try two of the flavors, original and chocolate chip. My preference between the two is chocolate chip because I like the chocolate flavoring mixed in with the cake, but both were equally gratifying to the sweet tooth. As an approximate guess I'd say each cake would amply feed 10-12 people, as that was the case for the cakes I ate and shared with others.
Each pound cake arrived very well packaged, with a bow and sticker as added accents. The package presentation made the cakes seem even more lovely. Each individual pound cake was sealed in a resealable freezer bag with a gold cardboard bottom piece. In addition, it was wrapped in cellophane and tied with a bow. It made the cake display look elegant and also ensured freshness until it was ready to eat. The only downfall to the packaging was that the bow that tied the cellophane together was tied on so tight that I couldn't just untie it. I had to take scissors and cut the bow off before opening up the rest of the packaging. In turn, it made the bow unusable again.
Miss Dottie's Pound Cake bakes their pound cakes fresh daily and uses only the finest, all natural ingredients. The pound cakes are made with organic butter, organic fresh cream, organic eggs and the finest Madagascar vanilla. Each cake is hand measured and made from scratch. Both cakes that I had the pleasure of eating tasted just produced and homemade.
Miss Dottie's Pound Cake is also an outstanding company in that they are involved in an Operation Pound Cake mission where they ship cakes weekly to soldiers in Afghanistan. The company accept donations for ingredients and you can also order a cake online as a donation for Operation Pound Cake. It brought a smile to my face when I saw the photos on Facebook of soldiers enjoying the deliciousness of Miss Dottie's Pound Cake.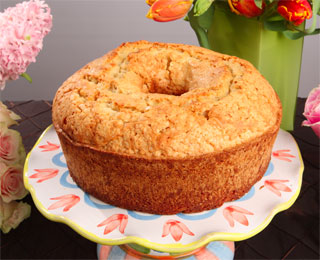 Win It!
*This is a Rafflecopter giveaway open to residents of the USA.*
a Rafflecopter giveaway