I received products for review. The opinions within this post are of my own and I was not influenced in any way. Please do your own research before purchasing products or using services. Your opinions and results may differ.
This fall, the Post-it Brand is introducing a range of fun yet practical solutions for the whole family to transition into the new school year. Personalize your space with Post-it Pop-up Note Dispensers, add a splash of global style to your daily routine with the Post-it Brand Colors of the World Collection, make homework/ study time more productive with Post-it Study Products and more!
Between blogging and working full-time outside the home, on top of managing a busy household, the Post-it Brand is handy and helpful in keeping my life organized.
The Home Collection can help remind, plan and display items that need attention or bring a smile to your day so that everything is organized and easy to find.
For instance, the Post-it® Brand Dry Erase Grip Tile is a nice product to write quick notes or reminders and hang important papers or business cards. By using dry erase marker, you can jot down a memo and have it seen in plain site. Wiping it off with a dry cloth allows you to use the writing board over and over again. The creased backing is designed to hold papers in place. Command(TM) picture hanging strips are included so the Post-it® Brand Dry Erase Grip Tile can be securely placed. I have mine placed in plain sight on the fridge and am able to view reminders of what needs to be done that day.
The Post-it® Reminder Tag is perfect for when you need to place a reminder or label your name on merchandise. Each pack contains 50 sheets in a pad. Rather than being square, they are long and thin. A Post-it® Reminder Tag wraps nicely around a purse or backpack, and more. I've been using them to label some of my kids' school supplies to help identify whose is whose. I've also used them to attach to the handle of my purse when going to the grocery store, after jotting down what I need to pick up.
You can personalize your space with new Post-it Pop-up Note Dispensers in fun shapes like the Cat, NFL Football and Golf Dispensers. I have the cat dispenser with green Post-it Brand pop-up notes. The cute little cat sits atop my office desk and when I need a Post-it note to write on, I just dispense one by gently pulling. It's easy and convenient. Refills for pop-up notes are available for separate purchase.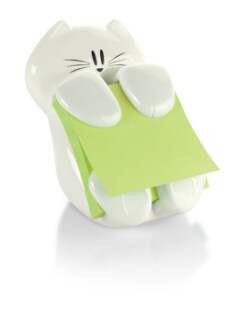 The Scotch® Display Frames can be used to display photos almost anywhere. Each package contains two frames. Scotch® removable mounting squares are the back adhesive to stick the frames in places, without marring or scratching surfaces. The frames are reusable, and it's easy to insert the pictures. I have my Scotch® Display Frames adhered to my fridge to proudly show my favorite photos.
The Post-it Brand is a company that allows you to create, connect, remind, and emphasize.