I received product for review. The opinions within this post are of my own and I was not influenced in any way. Please do your own research before purchasing products or using services. Your opinions and results may differ.
I know it's cliché, but I have the best husband in the world. I struck the jackpot when I got with him. He's always doing things for me and usually puts my wants before his. In return, I like to shower him with praise and kind words. I also like to do little things for him.
I was recently able to present Jason with a
love coupon book
as a gesture of my love. It came from Datevitation, the web's first online platform to feature custom love coupon books. Unlike the pre-packaged love coupon books on the market, you pick the dates and can customize the text to your liking. Once you are done customizing the text in your book, Datevitation will print it out and ship it to you.
The Datevitation library contains over 500 date ideas ranging from skydiving to stargazing to steamy adult-only activities. They also have over 100 book cover options. The new Add Your Faces feature allows you to add photos of your own faces to the illustrations.
I created a book for Jason using a Christmas book cover. I then went through the library of date ideas to find which ones would be perfect for him. To help narrow down what you are looking for, the library of ideas is grouped into themes. I created five pages of coupons, all with different date ideas. One was for Jason to redeem for a day of fishing, while another was a little more risqué. The whole process was effortless. Stick figures involved in scenarios make up the illustrations while catchy words make up what it is the recipient can redeem the coupon for. Although there's the Add Your Faces feature, I opted out of doing that.
The love coupon book arrived in a timely manner. It came in a rectangular brown envelope. The coupon book itself is cute and makes a great gift for any occasion. I like that there's no need to tear the actual coupons out of the book. There are perforated stubs on the end of each coupon that can be taken off when the recipient is ready to redeem that particular coupon. That allows the actual book itself to be kept in tact.
Datevitation isn't only for spouses or significant others. They can also be created for kids, parents and friends.
Exclusive Discount Code:
Books normally start at $25 but if you use the code HECKOFABUNCH during checkout, you can receive $10 off your purchase plus free shipping (for a savings of $13.50). The expiration date for the code is December 31, 2014 and the order cut-off date for guaranteed delivery by Christmas is December 13th.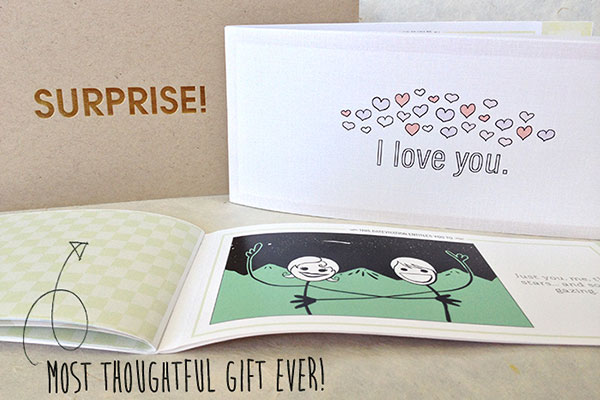 Win It!
One person will win a code for free
Datevitation
Love Coupon Book.
*This is a Rafflecopter giveaway open to residents of the USA. The promo code is good for $28.50 which entitles winner to a free book with five custom date pages and free general shipping. Tax will be applied to books shipped to California.*
a Rafflecopter giveaway