I received products for review. The opinions within this post are of my own and I was not influenced in any way. Please do your own research before purchasing products or using services. Your opinions and results may differ.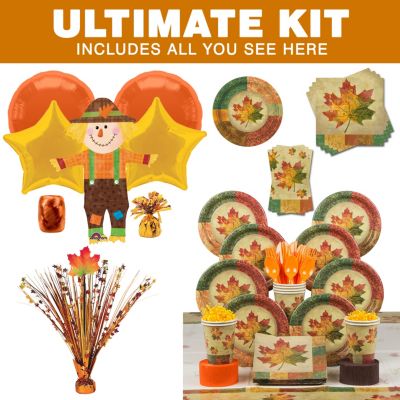 This year, mine was the host home for Thanksgiving. With almost thirty people in attendance, there was a lot of noise and camaraderie. I have to say this was one of the best Thanksgivings I've ever had and that was in part due to
Wholesale Party Supplies
. Rather than fret and stress about matching partyware, I was able to get a entire kit that coordinated perfectly.
I received the Rustic Fall Ultimate Kit and it went well with the theme for the day. The kit has supplies for a party of eight. Items included in the kit are:
◦8 Rustic Fall Dessert Plates
◦16 Rustic Fall Lunch Napkins
◦8 Rustic Fall 9oz Cups
◦8 Forks / Spoons / Knives
◦1 Rustic Fall Plastic Tablecover
◦24 Rustic Fall Beverage Napkins
◦8 Rustic Fall 9" Large Plates
◦16 Rustic Fall Guest Towels
◦1 Happy Scarecrow 38" Fall Balloon
◦2 Orange Metallic Round 18" Balloons
◦2 Yellow Mylar Star Balloons
◦Orange Foil Balloon Weight
◦Solid Curling Ribbon
◦Fall Leaves Foil Spray Centerpiece
◦2 Solid Color Streamers
I set up the partyware in my kitchen and living room for a festive atmosphere. I took the helium balloons in to a local store and purchased helium for them to be blown up. The scarecrow balloon, especially, was super adorable. The plastic utensils were not cheaply made, and the napkins and plates held up when food was put on them.
Although I had more than eight people who attended the Thanksgiving dinner, the Ultimate Kit was a nice addition to the other supplies I had on hand. Guests loved the overall look and how it went well with the holiday.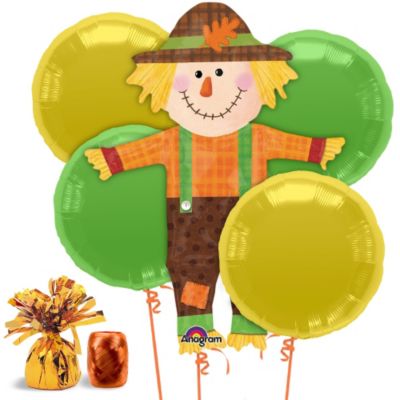 I know that Thanksgiving is over, but I will not hesitate to use Wholesale Party Supplies for other holidays and events. They have a wonderful selection of merchandise for Christmas that would add a jubilant mood to any space.
Wholesale Party Supplies also has a
Facebook page
with adorable craft ideas to liven any party.