I received product for review from
One Step Ahead
. The opinions within this post are of my own and I was not influenced in any way. Please do your own research before purchasing products or using services. Your opinions and results may differ.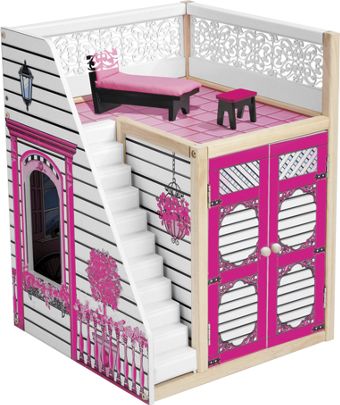 As many of you know, my kids are teens and older. Most toys are of no interest to them anymore. Luckily, I have a large family with several nieces and nephews that like to come over and play. And because I'm a cool aunt (or at least I think I am) the kids know I'll have lots of fun things for them to play with. My coolness factor recently went up several levels when the nieces discovered I had a
Fashion Dollhouse Garage
from One Step Ahead.
pieces before assembly
Made of wood, the garage holds Barbie ® cars and other doll vehicles. It also has a rooftop patio and an outdoor staircase. Included are three pieces of doll furniture - a plant, a chaise lounge, and a table. The furniture is also made out of wood.
The Fashion Dollhouse Garage required assembly. It arrived in several pieces and was a little overwhelming to me, but my husband was able to follow the instructions and get it all put together in less than two hours.
The finished piece is quite spectacular. Honestly, I want a "real life" garage that looks like this one! It's a square building with two doors that open to reveal space to place doll vehicles. The walls are decorated with a pink and white motif. There's a window on one side that allows a view inside the garage. A long flight of pink stairs flanks one side of the garage, and they lead to a rooftop patio.
Up on the rooftop is pink flooring and white floral cut-out latticework fencing. All over the garage, inside and out, are picturesque scenes of plants and other designs. The overall piece is quite sturdy and quite easy to lug around. I've never seen a garage for a doll that is quite as fancy as this one. It's super pretty, and the nieces think it's super fun to play with.