I received products for review. The opinions within this post are of my own and I was not influenced in any way. Please do your own research before purchasing products or using services. Your opinions and results may differ.
I'll be the first to admit that I don't abide by the Food Guide Pyramid. It's not that I don't eat fruits and veggies or drink some milk, but I don't pay a lot of mind to whether I'm getting enough of the good stuff. I'm sure I'll pay for it later in life.
Adora Calcium Supplements
wants you to remember to do something good for your body and bone health this season by ensuring that you're getting your daily calcium and vitamin D requirements. Adora makes it simple with their tasty calcium supplements that are made with only organic milk and dark chocolate and provide 100% of the daily calcium recommendation. Adora is gluten free, certified Kosher and contains no trans-fat or artificial sweeteners.
Adora comes in milk chocolate and dark chocolate discs. I received the milk chocolate variety. There are 30 discs for each re-sealable bag and the pieces are individually wrapped. I know that I can't expect to receive all needed calcium by eating chocolate every day but I like that I can eat a small piece of chocolate as a supplement for daily calcium recommendation.
A person can take up to three discs per day. I usually just go with one daily. Each Adora® Calcium Supplement disk delivers 500 mg of calcium and now has double the amount of vitamin D3 – 500 IU – for enhanced calcium absorption. The chocolate itself is tasty, with a yummy milk chocolate flavor. I just eat a piece in the morning and it's quick way to get in some of the calcium my body needs.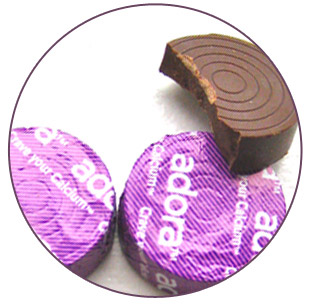 Do you get enough of the daily recommended servings of calcium? Which flavor of Adora would you most like - milk chocolate or dark chocolate?