I received products for review. The opinions within this post are of my own and I was not influenced in any way. Please do your own research before purchasing products or using services. Your opinions and results may differ.
When I walk into our local Kohl's store one of the first things I notice is the Kohl's Cares merchandise display. I'm drawn to it because the products are very affordable and monies from the sale of the collection supports children's health and education initiatives nationwide. It's a win, win!
New this holiday season, Kohl's Cares offers gift givers a novel assortment of incredible items for the entire family. Perfect for stockings or under the tree, there is something for everyone. Pieces are priced at $5 and $8 each, with 100 percent of the net profit supporting children's initiatives nationwide. The holiday collection will be available through December 27th at Kohl's stores nationwide and on
Kohls.com
. The current Kohl's Cares holiday collection features beloved hardcover books and classic characters including Curious George, Paddington, Madeline and Corduroy. They are available now through the end of December.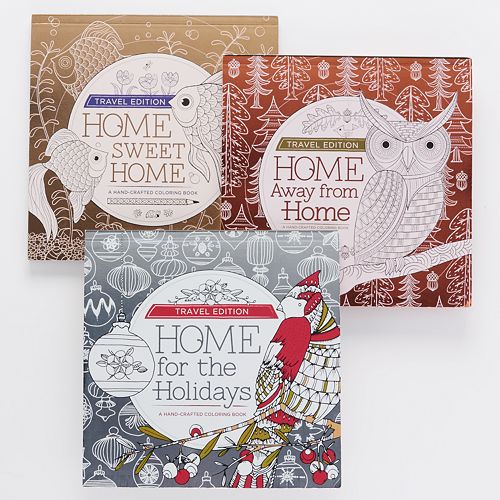 Christmas Movie Trivia
Home for the Holidays Music CD
Color and Create Your Own Cards
3 pack travel edition of adult coloring books
Crayola Winter Adventure Creativity Kit
Night Before Christmas book and plush bundle
Although you don't have to purchase a book that coordinates with the plush, both together are a perfect combination. The storybooks are a wonderful read all on their own, but the plush give an added touch. The plush are super soft and adorable. The books are hardcover and written for young children.
Adult coloring books are all the rage, and I'm totally diggin' the 3 pack travel edition of adult coloring books. They're smaller than most adult coloring books but they're high-quality and I really like the illustrations. One of them is a holiday coloring book, while the other two are "normal" coloring books.
My oldest step-daughter loves everything about Christmas, including the music. So she's been listening to the Home for the Holidays Music CD quite often. There are ten songs to the CD, for a total of 26 minutes playing time. A couple artists and songs included are "Santa Baby" by Eartha Kitt and "Let It Snow! Let It Snow! Let It Snow!" by Frank Sinatra.
The Christmas Movie Trivia is a card game with a couple hundred questions about Christmas films. I'm apparently not as well-versed about holiday films as I thought I was, but the game is fun and brings us lots of laughs.
Have you ever purchased anything from the Kohl's Cares collection? Which item from the holiday newest collection or the holiday collection is your favorite?