I received products for review. The opinions within this post are of my own and I was not influenced in any way. Please do your own research before purchasing products or using services. Your opinions and results may differ.
Science never has been my favorite subject. I don't hate it, but I need time to comprehend it all. Unbeknownst to me until recently, there's a line called Basher Science that has been helping kids with science for ten years.
Basher Science brought the Periodic Table to life through its amusing and informative characters, and now they're happy to announce that the Basher Universe has expanded from a popular book series to include a new line of science-themed character figurines, card games, and playsets
page from Simon Basher Rocks and Minerals book
Of the many books available, I received the
Simon Basher Rocks and Minerals
book. It presents geology of fossils, minerals, crystals, and rocks in interesting form. Each geological formation is made into a character and their story is told in autobiographical form. For instance, Talc is illustrated to look like a white gingerbread man, and readers can learn about all its uses. There's an index and a glossary at the back of the book. This book puts geology into a more personable light, and I feel children will be more apt to want to read this than a dry words in a textbook.
The toy line includes Basher Science figurines, card games, collectable cards, play sets and experiment kits. Children 6+ will now be able to collect and play with their favourite characters from Basher's Periodic Table, Physics, Biology and Rocks and Minerals books. They are a nice addition to the books and children can learn about science in a way that's interesting and engaging. For instance, the Biology Card Game teaches facts about aspects of science, while children are competing to win. The card games include a mini-figure.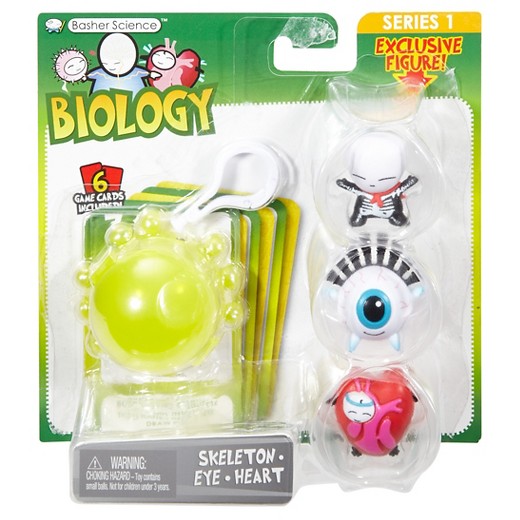 Win It!
One person will win a
Basher Science
Swag Pack that includes random assortment of books, card games, play sets, and figurines.
*This is a Rafflecopter giveaway open to residents of the USA.*
a Rafflecopter giveaway