I received products for review from

Infantech

. The opinions within this post are of my own and I was not influenced in any way. Please do your own research before purchasing products or using services. Your opinions and results may differ.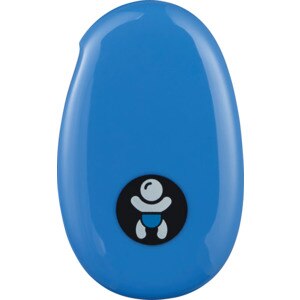 I'm not pregnant and have no plans to be but I currently know several gals who are. My schedule of baby showers is pretty packed in the coming months. So, I am definitely on the lookout for baby merchandise that is high-quality and affordable. I also like to look for items that are different than the norm or unique.
Baby items sure have come a long way since I had wee ones. Back then, there wasn't all this technology. The
smarttemp Bluetooth thermometer
is an innovative way to take your baby's temperature, and it's done with technological advancement. I have a nephew that's almost one-year old and I was given the go-ahead to use the thermometer on him a few times.
While this thermometer's primary use is for babies and children up to age seven, it can also be used on adults to measure armpit temperature. Before you begin using the thermometer, you need to download and install the free software. You'll then need to sync the thermometer to the app via Bluetooth.
After set-up is complete, you can start using the thermometer. There are fifteen adhesive pads included and you'll need to place one on the sensor, then stick the blue thermometer onto the child's armpit area. From there, temperature will be continuously monitored.
The thermometer itself has a plastic storage case and you'll need to place it back in that case after use. If you don't, battery power will be drained quicker. The thermometer starts up automatically when out of the case and shuts down automatically when in the case. Although I haven't needed to use it yet, a travel lanyard is also included.
I had no problem with set-up or placement of the thermometer. There was one time when my nephew was curious and tried to mess with the thermometer by his armpit but I quickly distracted him.
What I love about this particular thermometer is that it has so many cool features. It's not a "one and done" tool. Temperature can be tracked in real time through the app on the smartphone. Color coded temp readings show what range temps are in. For instance, a red color shows that child has a high fever. You'll also receive an alert if that is the case. If you're concerned about your child's temp and want a record of what it's been running over a course of seven days, a graphic will show you those readings. You can take your smartphone to the pediatrician and show them exactly what temperature readings have been. If your child is on medicine and you need to keep track of dosage, the app will provide you with medicine reminders.
It should be noted that smarttemp is not an instant read thermometer. It can take up to five minutes to receive correct temperature. Once reached, it is accurate within 0.01 degrees. The smarttemp Bluetooth Thermometer is useful and convenient. It beats waking baby up several times in the middle of the night to stick a regular thermometer under their pit or up their bum.
Infanttech has partnered with CVS Health to bring their award-winning smarttemp technology to customers in stores and online at
CVS
for a new lower price.