I received book for review from

Harper Collins

. The opinions within this post are of my own and I was not influenced in any way. Please do your own research before purchasing products or using services. Your opinions and results may differ.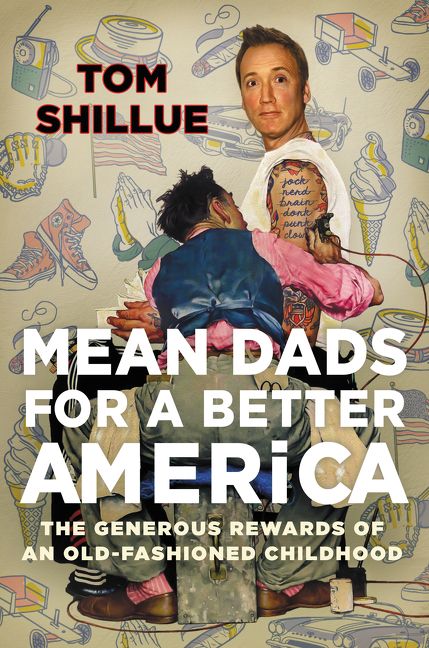 Book Overview:
From the stand-up comedian and popular host on the Fox News Network, a nostalgic look back at his childhood and the simple American values that shaped his worldview—a portrait of growing up in 1970s America.
As a comedian and conservative thinker, whip-smart funny Tom Shillue grounds his ideas about our current culture and political climate in stories from his childhood. Growing up as one of five kids in a devout Irish Catholic family in a small town outside of Boston, Tom sincerely believes that the rough-and-tumble, rules-dominated world in which he came of age was a better America—a time and place that made him into the well-adjusted, happy, successful man he is today.
In Mean Dads for a Better America, Tom reminisces about his childhood, his family, and the traditional values he cherishes. He takes us back to a time when neighbors disciplined each other's children without fear of being sued, when kids made it to the family table for dinner, when parents' rules were gospel, when the occasional fistfight was considered a fair way to solve a problem, and when children were free to roam, make mistakes, and experience the first tastes of independence.
My Review:
This is the first I've heard of Tom Shillue but, after reading his book, he and I have a lot in common. I was born in the '70s and can relate to a lot of what he writes. In fact, he had me going down memory lane several times.
Mean Dads for a Better America is Tom Shillue's thoughts and opinions on why the upbringing of yesteryear are better comparably than how youth are raised today. He doesn't bash or belittle today's society but gives his own viewpoint on the differences with parenting, schoolyard fights, sports, and more with how they were different then compared to now. For instance, parents used to let their kids play outside in the dirt and run around the neighborhood. These days, it's almost unheard of for a child to be left unattended. School fights used to be between the kids and, once it was broke up, nothing else was said or done about it. Now, you can't even bring a pair of tweezers into school without it being considered a weapon.
I personally believe that the world now compared to the world just a couple of decades ago has changed dramatically. Not all of those changes have been for the good. Kids aren't allowed to be upset, every child is awarded a ribbon regardless of how well they did, and helicopter parenting keeps our children inside a bubble. I think parenting is a "different strokes for different folks" kind of deal and I rarely judge how a parent raises their child. But Mean Dads for a Better America took me back in time and made me miss certain parts of that kind of life.
Win It!
One person will win a hardcover book copy of
Mean Dads for a Better America
.
*This is a Rafflecopter giveaway open to residents of the USA.*
a Rafflecopter giveaway