I received product for review from The Quarto Group. The opinions within this post are of my own and I was not influenced in any way. Please do your own research before purchasing products or using services. Your opinions and results may differ.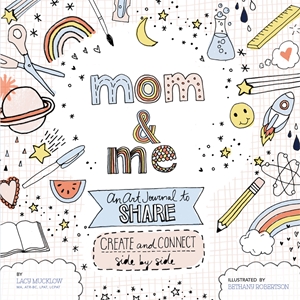 Book Overview:
This full-color art journal for moms and kids to color and draw together in is designed to be a sharing experience. Mom and child can write each other letters, draw what scares them, imagine what they want to be when they are grown up, color a scene using only one favorite color, whatever their imaginations lead them to!
Mom and Me: An Art Journal to Share is filled with fun hand-lettering and artwork from Bethany Robertson along with creative prompts from licensed art therapist Lacy Mucklow.
Mucklow offers up the best ways to communicate with a child through creating together; how to start an open conversation with your child; questions you can ask that will help generate thoughtful responses; and how to tailor the quality time so it's still fun and engaging for your child.
This art journal has 50 full-color spreads to color, fill in, draw, and more. Each spread has a creative prompt or another exercise for mom and child to fill out together.
My Review:
As many of you know, I lost my mother a little over a year ago. Luckily, I've kept many of her handwritten cards and notes. They are cherished memories of our time spent together from childhood to adulthood. We're not really in a day and age of writing down our thoughts and ideas anymore. Written diaries, journals, and similar mementos give way to other forms of electronic media.
Although I'm okay with today's fast-paced world, I still want to have real and authentic moments with my kids. They've grown up so fast and I want to look back and remember the memories. I feel that the Mom and Me: An Art Journal to Share has given me the opportunity to strengthen the bond with my 23 year-old daughter. Me and Shelby are close but working on this book together has given us a deeper way to communicate our fears, feelings, ideas, and thoughts.
Shelby and I have been spending time together going through the pages and following the prompts. There are different tasks and themes within the book. One task asks you to draw a picture of yourself using a value that's important to you. Another may ask you to draw a memory about a day in your life that you experienced something you will never forget. Or, it may prompt you to draw what the album cover of your life would look like if you recorded it right now. The left side of the page is for the mom to fill out, and the right side is for their child to complete. This journal is a good way to have authentic communication with your child, whether they are younger or an adult.
Mom and Me: An Art Journal to Share
is divided into different themes. There's sections on Hopes & Dreams, Friends & Family, Feelings, Accomplishments, and more. You don't have to be a good writer or illustrator to use this art journal. It's intended to bring out real and honest feelings. Like I said earlier, I'm very close with Shelby. But, I've learned a lot of things about her (and vice versa) by going through this art journal with her.
Win It!
One person will win
Mom and Me: An Art Journal to Share
.
*This is a Rafflecopter giveaway open to residents of the USA.*
a Rafflecopter giveaway