I received book for review from

Arbordale Publishing

. The opinions within this post are of my own and I was not influenced in any way. Please do your own research before purchasing products or using services. Your opinions and results may differ.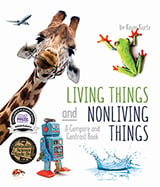 Book Overview:
Using a wide variety of stunning photographs, author Kevin Kurtz poses thought-provoking questions to help readers determine if things are living or nonliving. For example, if most (but not all) living things can move, can any nonliving things move? As part of the Compare and Contrast series, this is a unique look at determining whether something is living or nonliving.
My Review:
With amazing realistic pictures, this book isn't filled with a lot of words but gets children thinking about how living and non-living things are both alike and different. For instance, we know that all living things do grow and change. But the book shows beautiful pictures of nonliving things that grow and change too, like icebergs and clouds. This compare and contrast book opens up discussions and makes kids think.
The 'For Creative Minds' section in the back of the book encourages further learning with a glossary and a Living or Nonliving Checklist.
Living Things and Nonliving Things: A Compare and Contrast Book
is a Fall 2017 release from Arbordale Publishing.
Win It!
One person will win
Living and Nonliving Things: A Compare and Contrast Book
.
*This is a Rafflecopter giveaway open to residents of the USA.*
a Rafflecopter giveaway