I received product for review from

Edushape

. The opinions within this post are of my own and I was not influenced in any way. Please do your own research before purchasing products or using services. Your opinions and results may differ.
Although I have no desire to have a baby of my own (been there, done that) I love browsing baby selections for friends and family who are due with wee ones.
Whether you are a first time parent, grandparent or a friend searching for the perfect
baby shower gift, Edushape is here to help. Edushape, a company that focuses on learning and fun, has the cutest soft plush for young'uns - The Happy Kitten.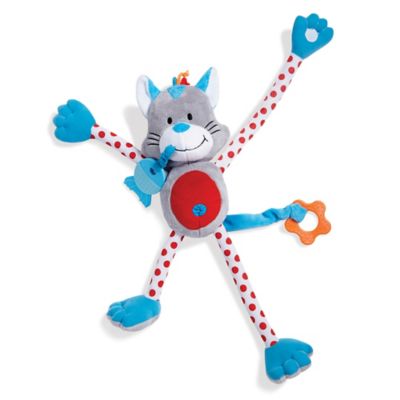 The
Edushape Happy Kitten Plush
is visually appealing with its red, gray, white, orange and blue colors. The size of it is bigger than I expected, which I really like. It's 10" long and is more than just a cute plush kitten. It sharpens auditory sensory development and fine motor skills. The tail has an orange teether ring, arms come together to hug, and there's a bell for sound. If you pull one leg, the other will retract. This plush is super cute, soft, and gives little ones a way to have fun while developing skills.