If you've been reading my blog for some time now, you now what Tuesday means - Random Tuesday Thoughts. Hosted by
Stacy Uncorked
, it's a linkup of all things random.
------------------------
I finally jumped on the Amazon Prime bandwagon. The perks, including free shipping, are great. But that's not the original reason I signed up. I got tired of watching my cable bill skyrocket through the roof. So, we purchased a Fire Stick and hooked it up to the boob tube. Now we can watch tons of movies and TV shows without having to rob Peter to pay Paul. Have any TV or movie recommendations?
--------------------------
I tried looking at the bright side of life...but it hurt my eyes.
There cannot be a crisis next week. My schedule is already full.
Last week I went through a crisis that threw me for a loop for a full four days. Somehow, someway, I got a corneal abrasion in my left eye. In laymen's terms, I scratched the entire upper portion. I've never had it happen before and will die a happy person if it never happens again. The pain level was definitely a high 9.
I was first diagnosed at a walk-in clinic and given antibiotic eye drops. The next day I was in my own personal domain of pain. I even resorted to going to the ER to get a pain shot or pill because I couldn't stand myself any longer. But, I decided the 4-6 hour wait wasn't worth it. Finally, I was able to get in to an eye doctor who patched me up like a pirate and gooped my eye with ointment. A couple days later I was all good.
I can see clearly now, the rain pain is gone.
---------------------------------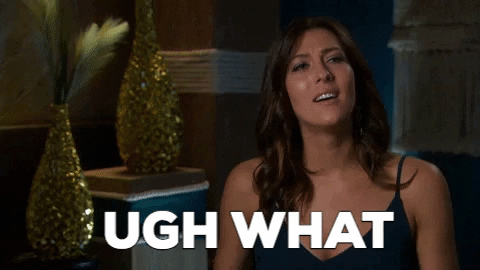 My Thoughts Exactly! #TheBachelor
I've been intently watching three TV shows this season:
America's Next Top Model - I've only ever missed one season. So far, my vote is for Rio or Jeana. Do you have a favorite?
MTV's The Challenge - I'm a total sucker for any of MTV's The Challenge and have watched them for years. I grew up watching Real World and this is an extension of that part of my life. Johnny Bananas (with the most season wins) may not be everyone's favorite but that man knows how to play the game like a boss.
The Bachelor - Okay, so, the seasons are always hit or miss for me. I'm all in for this one, going to the end. I really liked Krystal in the beginning but I've decided she's Cuckoo for Cocoa Puffs. My least favorite, though, is Bekkah (aka Rizzo). It has nothing to do with her age. She just grates my nerves. Who are you rooting for this season?
I like Arie and all but I can't help but think how each and every woman has kissed each and every woman by proxy. Arie's jaw has gotta hurt as much tongue action he gets.
Whether you watch The Bachelor or not, you've gotta check out
Sheaffer Told Me To
blog and read her recaps of the show. She tells it like it is, and I guarantee you'll laugh.
------------------------------------
stock photo from site
Through another blog (wish I could remember which one) I discovered an awesome shop called
Simple Addiction
. They sell the cutest apparel and accessories, at great prices. I purchased 9 pieces (tees, leggings, a watch and a beanie) in the clearance section and paid a little under $40 total. I do remember that the blogger's first name was Whitney because I was able to use the code Whitney10 at checkout to receive 10% off my order. Go check out the site, seriously!
-----------------------------------
Onesie Twinsies
(with the friend's man)
Jason was away on a hunting trip so I called a gal pal up to see if I could crash at her house. She obliged and even told me I could show up in my pajamas. Didn't have to tell me twice!
--------------------------------
Well, there you have it! Another RTT in the books.