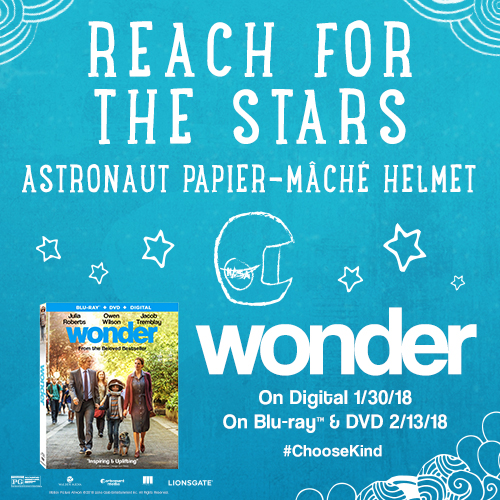 The incredibly moving and heartfelt family film, Wonder is now available on Digital, Blu-ray, DVD, and 4K Ultra HD from Lionsgate. And now you can make your own Astronaut helmet at home. Just click the picture above to be taken to the link for the paper-mache helmet.
FILM SYNOPSIS:
Julia Roberts, Owen Wilson, and Jacob Tremblay star in an inspiring story of a loving family whose son, born with facial differences, enters a mainstream school for the first time.
Based on the beloved best-selling novel,
WONDER
follows the inspiring story of the Pullman family, whose youngest child, Auggie, is a boy born with facial differences. When Auggie enters mainstream elementary school for the first time, his extraordinary journey unites his family, his school, and his community, and proves that you can't blend in when you were born to stand out. Oscar® winner Julia Roberts, Owen Wilson, and Jacob Tremblay star in this heartwarming and uplifting film.
Special Features:
Summer of Fun: 5-part Documentary
A Child's Sense of Wonder Featurette
What A Wonderful World Featurette
Audio Commentary with Stephen Chbosky and R.J. Palacio
''Brand New Eyes'' Music Video
WONDER Soundtrack Behind-the-Scenes Featurette
Theatrical Trailers --Lionsgate
My Review:
I had seen previews for
Wonder
and seriously considered watching it in theater. Thing is, I hate sobbing and sniffling in front of complete strangers. So, I got out the Kleenex at home and watched the movie. As expected, I went through my fair share of tissues.
Wonder
is based upon a bestselling book of the same name. Now that I've watched the film, I'm definitely going to read the book. It tells of a boy named Auggie who has a facial deformity. It's not much of a big deal, until he is brought into the public eye in a mainstream school.
WONDER is told from different viewpoints throughout the film, but it's easy enough to follow along. Viewers are presented with the trials and sufferings that a "different" person might face. It also shows how siblings might be affected when the focus is on a child with special needs or someone that needs more care than them. At the end of the movie, I was left feeling uplifted and inspired. It is my hope that all people #ChooseKind, regardless of a person's physical, financial, or emotional instabilities.
Have you seen WONDER?
Have you ever been faced with bullying?
What are some things you do to show kindness?