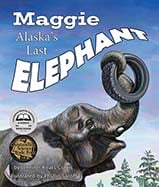 Book Overview:
Elephants are social animals. Maggie and Annabelle used to live together at the Alaska Zoo. But after Annabelle died, Maggie was all alone. For years, zookeepers tried to keep her happy (and warm). But ultimately they sent Maggie to live at a sanctuary (PAWS). Now she is happy and at home with her new herd of other elephants. This is a heartwarming story of how zoos ensure the best for the animals in their care—even if the best is not at their zoo.
My Review:
A Spring 2018 release from Arbordale Publishing,
Maggie, Alaska's Last Elephant
starts out somewhat sad. It tells of two elephants who live in a zoo and keep each other company. Unfortunately, one of the elephants dies and the other is left feeling sad. She befriends a tire.
Maggie, the remaining elephant, gets sick one day and it's determined that she needs to be moved to a warm place with her own kind. In order for this to happen, Maggie had to learn how to stay still in a large crate while it was flown on a plane. Once the elephant was transferred to PAWS, a rescue group, she was encouraged to rebuild her strength and meet other elephants. The story has a happy ending, with Maggie being acquainted with animals of the same kind and being much happier in her new home.
Although this book has colored illustrations, the story itself is based on true events. It's a story that tells the process in which Maggie was transported from the zoo to her new home. There's details on how Maggie is introduced to the new place and the new elephants. Readers will also learn what elephants like and how they behave.
The "For Creative Minds" section in the back of the book, after the story, goes into detail about elephant herds and elephants in zoos. There's also an informative Q & A with Maggie's current keeper, Michelle Harvey.
Win It!
One person will win a
Maggie, Alaska's Last Elephant
children's book.
*This is a Rafflecopter giveaway open to residents of the USA.*
I received book for review from

Arbordale Publishing

. The opinions within this post are of my own and I was not influenced in any way. Please do your own research before purchasing products or using services. Your opinions and results may differ.
a Rafflecopter giveaway