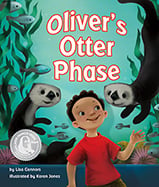 Book Overview:
What child hasn't wondered what it would be like to be an animal, able to hop, fly, or slither with ease? After a trip to an aquarium, Oliver decides he wants to be a sea otter. Oliver tries to copy sea otter behavior at meals, while playing, during a trip to the store, and at bath time. However, during the course of the day, Oliver discovers that he just doesn't have the same adaptations. Being an otter isn't easy for a human. What's an otter—we mean, a boy—to do?
My Review:
A Spring 2018 release from Arbordale Publishing,
Oliver's Otter Phase
tells of a boy named Oliver who decides he wants to be a sea otter after seeing them in an aquarium. Oliver tries his best to mimic otter behavior but finds he doesn't quite have what it takes.
Throughout the story, kids see what otters eat and do when Oliver tries to act like them. There's also Polaroid picture illustrations that show otters carrying out and performing in their natural ways. I have to say that
Oliver's Otter Phase
is at the top of my list of favorite children's books. It tells about otters in an engaging way, and Oliver is a kooky, yet adorable, boy. The illustrations are also appealing.
The "For Creative Minds" section after the story has several facts on marine mammals, explains the differences and similarities between humans and otters, explains the differences and similarities between sea otters and river otters, and has a learning experiment on the way that Oliver uses tools as compared to sea otters.
Win It!
One person will win an
Oliver's Otter Phase
children's book.
*This is a Rafflecopter giveaway open to residents of the USA.*
I received book for review from
Arbordale Publishing
. The opinions within this post are of my own and I was not influenced in any way. Please do your own research before purchasing products or using services. Your opinions and results may differ.
a Rafflecopter giveaway