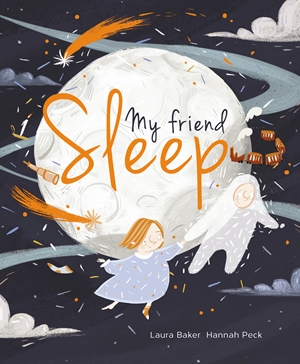 Format: Hardback, 32 Pages
ISBN: 9781786032997
Size: 9.252 in x 11.417 in / 235 mm x 290 mm
Published: October 18, 2018
Book Overview:
Journey with a little girl through her dreams, alongside her friend Sleep. Meet friendly aliens, ride on a dragon's back and meet a scary monster... who turns out to be not-so scary after all. With Sleep by your side, nothing is as terrifying as it seems. This magical picture book delights in the joy of dreams, opens a door to children's imaginations and helps to contain their fears around sleep and night terrors. Featuring stunning, atmospheric illustrations, this beautiful story is the perfect book for getting little ones off to sleep at bedtime.
My Review:
Even as a little girl, I've always had vivid dreams that I can usually remember long after waking up. I've also always been active in my sleep, and used to suffer from night terrors. I don't have near as hard time sleeping as I used to; I'd fight sleep from fear of what I'd dream about.
My Friend Sleep is a hardback book that's perfect as a bedtime story for younger children. It tells of a little girl who drifts off to sleep. Her mind goes on adventures and dreams with her friend, Sleep. Sleep is a translucent white figure with a soft face. Sleep goes with the girl as she has dreams of imaginative scenarios. The girl also comes across an ominous monster that could be a thing of nightmares, but finds out the monster isn't scary after all.
The illustrations look like sketches and the majority of the pictures are done in black, orange, and blue colors. This book depicts how dreams can be fun and far-fetched, and how things that may seem scary don't have to be.
Win It!
One person will win a
My Friend Sleep
children's book.
*This is a Rafflecopter giveaway open to residents of the USA and Canada.*
I received book for review from

Quarto

. The opinions within this post are of my own and I was not influenced in any way. Please do your own research before purchasing products or using services. Your opinions and results may differ.
a Rafflecopter giveaway