I received product for review. The opinions within this post are of my own and I was not influenced in any way. Please do your own research before purchasing products or using services. Your opinions and results may differ.

I could spend hours and hours (and lots and lots of money) on Etsy. It's where you can find handmade creations of all types and sorts. I'm amazed at the creativity and talent of the people who have Etsy shops. One that I recently became aware of is
Missy's Monkeys LLC
. This girl has got some mad skills!
Missy's Monkeys LLC specializes in handmade sock monkeys, and is based out of Arizona. They are crafted by Missy Wanamaker, a stay-at-home mom of two. The monkeys are handmade with all new materials including knit socks, hypo-allergenic fiberfill, buttons, ribbon, and more. The monkeys are made with a sewing machine and hand stitched using double-ply thread twice over in each area to ensure durability.
Missy's Monkeys meets CPSC requirements and creates original Rockford Red Heel Sock Monkeys as well as new novelty patterned, super hero characters, licensed sport teams, Mini Monkeys, and many more fun designs.
Because we are Batman fans, I chose to receive a Batman Sock Monkey. A lot of people may have a lot of keepsakes with their favorite superhero, but a sock monkey is most likely not on that list. Now it can be with Missy's Monkeys!
The creator of these sock monkeys puts a lot of care and detail into creating them, and it definitely shows. The sock monkey I have in particular features the Batman logo on its knees, tail, and chest. A black synthetic cape is added on its backside, and is held on with ribbon. As you can tell from the pictures, a fantastic job is done depicting a resemblance of Batman.
The sock monkey itself is 25 inches tall from head to toe, with very long arms, legs, and tail. With the way it's made, the sock monkey can be set down on top of something or it can easily hang from a fixture. I'm definitely impressed with the quality work of the sock monkey, and it's a great conversation piece.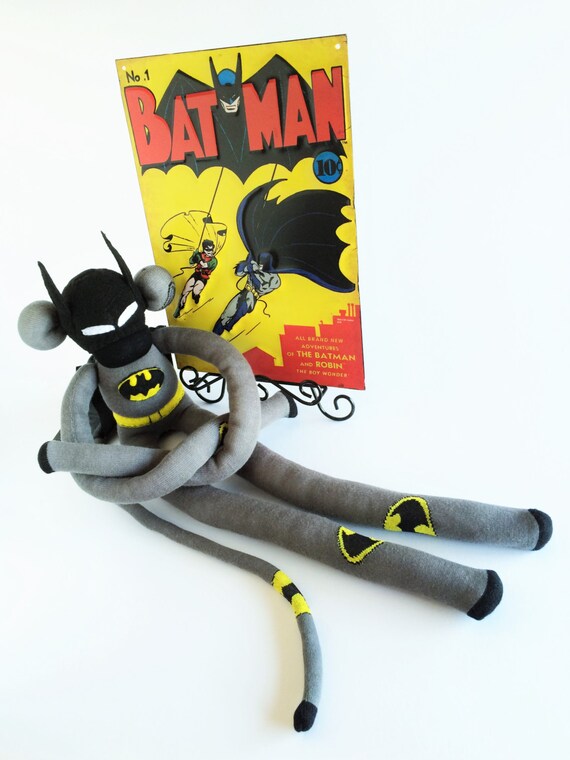 Win It!
One person will win a
Batman Sock Monkey
.
*This is a Rafflecopter giveaway open worldwide.*
a Rafflecopter giveaway