I received product for review from

Prime Time Toys

. The opinions within this post are of my own and I was not influenced in any way. Please do your own research before purchasing products or using services. Your opinions and results may differ.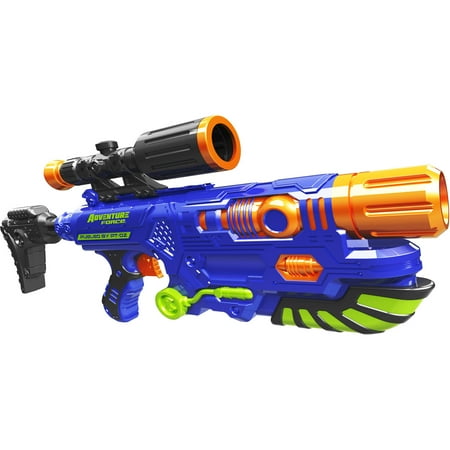 I have two teenage boys who, although nearly grown, are still kids at heart from time to time. For instance, the Battle Blaster from Prime Time Toys has gotten plenty of play time since I received it for review. Other than having to warn the boys not to aim the blaster at each other, it's turned out pretty well.
The Battle Blaster Power-Pump Water Gun performs with great precision aided by a detachable scope. With a water blast range of up to 35', you'll be sure to catch your target in the crosshairs. Trust me, I know; I've been in those crosshairs!
The water gun is packaged in a cardboard box and secured with zip ties, so scissors are necessary to cut the gun loose.
We did have a hard time, at first, finding the cap opening for the water. There wasn't any indication on the box. After feeling around for a while, we were able to locate it. The gun holds a good amount of water and it's easy to operate. You just have to pump the bottom half of the barrel and pull the trigger to squirt. The water comes out in a long, thin stream. If you prefer not to have the scope on top of the gun, you can detach it by sliding it off. The Battle Blaster Power-Pump Water Gun has gotten plenty of use and has proven to be a fun outdoor activity.
Prime Time Toys launched the new collection of water blasters, including the Battle Blaster, in January of this year. They are available exclusively at Wal-Mart and walmart.com. T
he Adventure Force™ line of water blasters will bring a splash of fun to the backyard this Spring and Summer.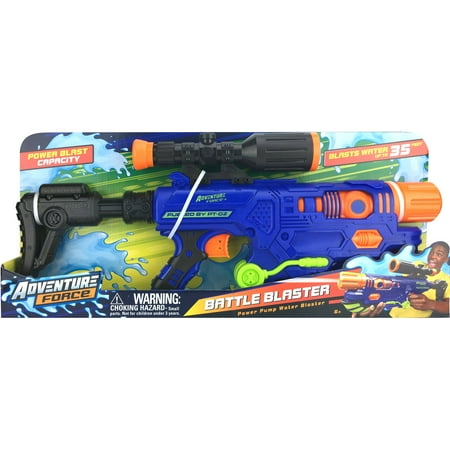 Win It!
One person will win a
Battle Blaster Power-Pump Water Gun
.
*This is a Rafflecopter giveaway open to residents of the USA.*
a Rafflecopter giveaway