I received product for review. The opinions within this post are of my own and I was not influenced in any way. Please do your own research before purchasing products or using services. Your opinions and results may differ.
Toys 'R Us, Walmart, and Amazon have all named
Fingerlings
a top holiday toy of 2017. I know demand is high around here; I've seen several posts and requests from people looking for Fingerlings. I had heard of them but wasn't sure what the hype was until I received Kinglsey, the newest fingertip friend to WowWee's line of Fingerlings. Kinsley is a slow and silly sloth.
Similar to the other Fingerlings in the line, Kingsley responds to sound, motion, and touch with blinking eyes, head turns, and silly sloth sounds. You can blow a kiss and Kingsley will kiss you back or you can hang Kingsley upside-down by his tail. Kids can rock Kingsley to sleep or make a loud noise and watch him get excited. But the difference between Kingsley and the other Fingerlings is that he moves 20% slower, in true sloth fashion.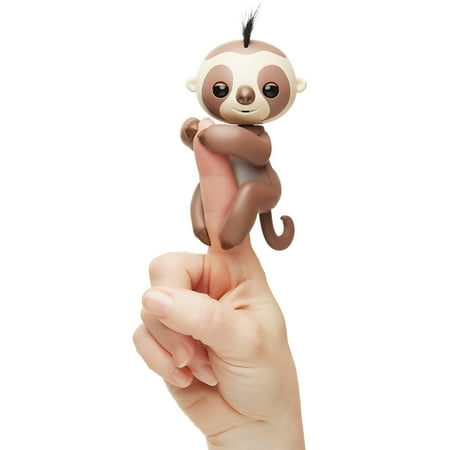 There are instructions included on how to interact with Kingsley. By clapping and tapping and turning Kingsley upside down or sideways, your child will receive different cute motions and reactions from Kingsley. Although your finger is the most obvious choice to let Kingsley hang out, he will also grasp onto writing utensils, straws, and other objects. There's an on/off switch located on the back of Kingsley, and he will go into sleep mode after five minutes of inactivity.
Kingsley is a
Walmart exclusive
and became available November 17th. He's a cute interactive animal that will provide lots of entertainment.