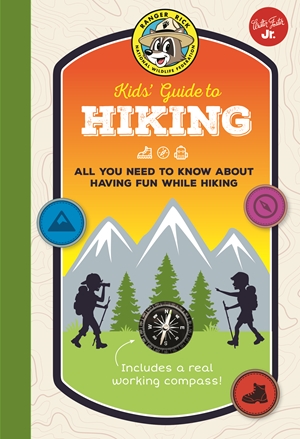 Book Overview:
Ranger Rick Kids' Guide to Hiking shows you everything you need to know to have the most amazing hiking experiences! The book includes a real working compass that will help you find your way.
Hiking is more than just a walk in the woods. Every outing is an adventure, and you never know what a hike will bring. By reading this book, you'll learn where to go to hike, when to go, what to wear, and what to bring with you. You'll also learn how to take care of nature and how to stay safe while on the trail. But best of all, this book shows you how you can have the most fun while hiking.
For some kids, hiking itself might be adventure enough. But you can also bring along a nature journal or create land art. Bring a special hiking buddy with you—one who knows lots of good jokes, riddles, and games to pass the time. You can hike with your pooch, and believe it or not, you can even hike with llamas!
The more you know about hiking, the more fun you can have on your adventures. So read the tips in this book at home before you go, and then head for the great outdoors and use the compass to help you find your way. Happy hiking!
My Review:
I'm not an expert hiker by any means but enjoy going along offbeat trails once in a while. I love listening to nature and viewing the Earth in its natural beauty. When my kids were younger, we spent more time hiking than we do now. I cherish the memories made, with very few distractions.
A book that will fascinate young hikers,
Ranger Rick Kids' Guide to Hiking
is written and illustrated in a way that's entertaining and understandable to kids. Shoot, as an adult, I even found it interesting! I learned how to spot poison ivy and poison oak. I was given pointers on proper trail etiquette, and discovered what should go in a hiking bag. A cartoon raccoon named Ranger Rick gives helpful pointers and tips, alongside realistic photos. There's even a small working compass inlaid on the cover of the book. If you plan on taking your kids on a hike, I definitely recommend this book as reading material.
I received book for review from

Quarto Knows

. The opinions within this post are of my own and I was not influenced in any way. Please do your own research before purchasing products or using services. Your opinions and results may differ.