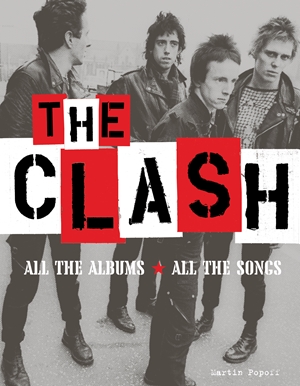 Book Synopsis:
Veteran music journalist Martin Popoff dissects all the Clash's recorded output, including the songwriting and inspiration, the recording, historical contexts, critical and commercial reaction and more. In addition, an introductory essay sets the scene for each album, while sidebar features explore the band's influences, album art, non-LP singles, the band's staunch political stance, and song details, such as running time, instruments played, engineers, and studios.
My Review:
Father's Day (June 17th) isn't far away and if you're looking for a terrific and different pick, consider
The Clash
, a hardback book that narrates and illustrates the British punk rock band.
I'll be honest and admit that I only vaguely knew of The Clash before looking into this book. I was only familiar with a handful of their songs. I have to say, though, that reading about their musical career was interesting. The variety of color photos brought the band and their story to life. Every time I look through the book, it seems there's something new I learn, having missed it the first time through. The cover design and overall look of the book make it one worth keeping out on the coffee table.
I received book for review from

Quarto Knows

. The opinions within this post are of my own and I was not influenced in any way. Please do your own research before purchasing products or using services. Your opinions and results may differ.