HOTEL TRANSYLVANIA 3 is now available on Digital and arrives on Blu-ray™ Combo Pack and DVD on October 9th
The Drac Pack is back with
HOTEL TRANSYLVANIA 3
, which is available on Digital HD now and available on Blu-ray™ Combo Pack and DVD on October 9, just in time to for a spooky, fun, family movie night right before Halloween! This must-own family comedy, which has grossed more than $425 million in theaters worldwide to date, follows in the tradition of the blockbuster Hotel Transylvania franchise when Mavis surprises Dracula with a family voyage on a luxury, haunted monster cruise ship. Of course, the rest of the Drac Pack has to tag along, and that's when things get a little…batty. The monsters are having a great time, indulging in all of the shipboard fun the cruise has to offer, from monster volleyball to colossus-sized buffets and exotic excursions, but then the unexpected happens when Drac falls for the ship's mysterious (and dangerous) human captain Ericka. The third film in this family-friendly monster franchise is the best reviewed installment and you're invited along on the haunted cruise vacation!
The all-star voice cast is back, along with some new faces as well including Adam Sandler (Grown-Ups), Andy Samberg (TV's "Brooklyn Nine-Nine"), Selena Gomez (Spring Breakers), Kevin James (Paul Blart: Mall Cop 2), David Spade (TV's "Rules of Engagement"), Steve Buscemi (TV's "Boardwalk Empire"), Keegan Michael Key (TV's "Key and Peele"), Molly Shannon (TV's "Saturday Night Live"), Fran Drescher (TV's "The Nanny"), Kathryn Hahn (Bad Moms), Jim Gaffigan (Super Troopers 2) and Mel Brooks (Young Frankenstein).
HOTEL TRANSYLVANIA 3 is filled with more than an hour of engaging bonus materials including three "All-New Scary-Oke Sing Alongs," a monster dance party dance along to "I See Love" by Joe Jonas featuring Jonas Blue, plus a fun zing-tastic read along with Drac. Families can enjoy all the frightful fun with a "Plan Your Own Spook-tacular Sleepover" feature and "Vampire Make Over: Mavis and Drac Tutorial," and go behind-the-scenes to explore the amazing talent who bring these characters to life in "Behind the Screams – The Voices of Hotel Transylvania 3.
HOTEL TRANSYLVANIA 3 has a run time of approximately 97 minutes and is rated PG for some action and rude humor.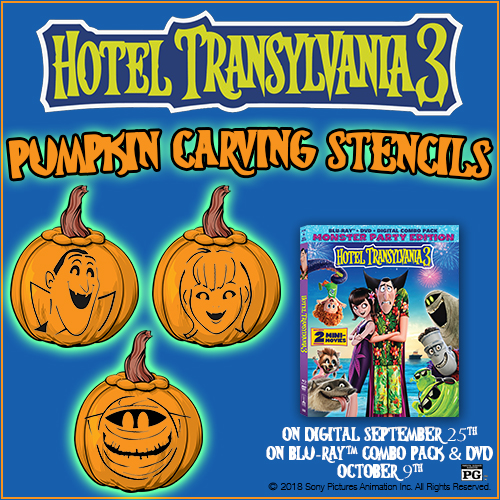 Click on picture above to be taken to a page with pumpkin carving stencils.
I hosted a Hotel Transylvania 3 Movie Night with my younger nieces. I enjoyed it as much as they did. We received a box coffin full of goodies to accompany the movie.
I received the Walmart exclusive Blu-ray edition which includes a Virtual Reality Activity Book in addition to the Hotel Transylvania 3 Blu-ray, DVD and Digital. With this book and a download of the Hotel Transylvania 3 Virtual Reality Activity App you can hold your phone over the cover and your favorite Monsters will leap off the pages. Plus the included VR goggles will let you jump into their zany world with 3 brand new VR experiences. I downloaded the app and pointed my phone's camera at the porthole icons on the book. That was a fun virtual experience!
I'm familiar with the first two Hotel Transylvania films, and so who were my nieces who watched HT3 with me. Sometimes if a movie goes for sequels or further, they aren't as good as the original. Hotel Transylvania did not disappoint in its third installment. Most of the scenes are set on a cruise ship while the monsters are on a vacation. All goes well until the captain of the ship is found holding a secret that could destroy the monsters.
I thought the whole movie was entertaining but got the most laughs out of Dennis, the 5 year old son, who tries to disguise his large puppy as a passenger. Along with plenty of laughs, there's the dynamic of the importance of family spending time together.
We didn't go through all the bonus features, but the ones we did check out were worthwhile. I danced and sang right along with my nieces during the Sing-Alongs and Lyric Videos. We even did the Macarena!
To go along with Hotel Transylvania there are some fun products to bring the characters home outside of the movie. For one, there's the
LF Centennial Pte. Hotel Transylvania Mavis Women's Costume
. Guess who's going to dress up in that costume for Halloween?! (hint: it's me!)
There's also the
Hotel Transylvania Blind Figure Series 1 Monster Mayhem Collectible 6 Pack
. With a total of 61 characters that come inside fun monster trunks, kids can try to collect them all. The trunks have a Skeleton Key, a Collector's Guide and a collectible inside each one.
Hotel Transylvania fans can also purchase plush dolls and action figures.
I received products in exchange for this post. The opinions within this post are of my own and I was not influenced in any way. Please do your own research before purchasing products or using services. Your opinions and results may differ.