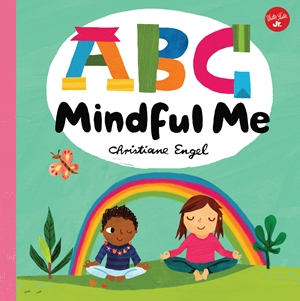 Author: Christiane Engel
Format: Board book, 36 Pages
ISBN: 9781633225107
Publisher: Walter Foster Jr.
Published: March 6, 2018
Book Overview:
Pairing simplified mindfulness principles with each letter of the alphabet, ABC Mindful Me features colorful illustrations of children and animals, as well as playful rhymes to explain each concept to toddlers (and their parents!).
A fun read for the entire family, ABC Mindful Me is not only perfect for teaching toddlers their ABCs, but also for introducing them to key mindfulness tenants which promote physical and mental wellness, proper breathing, compassion, gratitude, and kindness.
These key concepts will help to grow young readers' concentration, listening skills, and ability to manage emotions, stress, and anxiety.
My Review:
There's all sorts of ABC books out there, but this has to be one of my favorites. ABC Mindful Me is a hardcover book with illustrations of children doing things for others, and doing things to make them more mindful. Each letter of the alphabet is recognized. For instance, W is for Walk and Q is for Quiet. Along with the illustrations and words are short descriptions told in rhythmic form. As an example, Kindness shows a girl helping a cat out of a tree with the narration "Do a kind thing. Help someone who's in trouble - Happiness that is shared counts for double!"
ABC Mindful Me is a board book from front to back, so it should last for years. To accompany the ABCs, there's also a short narration on the definition of mindfulness. If you'd like to take a hands-on approach with this book, there's short instructions and descriptions about Emotion Rocks, Mandala Art, Nature Art, and a Thankfulness Tree.
Win It!
One person will win an
ABC Mindful Me
children's book.
*This is a Rafflecopter giveaway open to residents of the USA and Canada.*
I received book for review from

Quarto

. The opinions within this post are of my own and I was not influenced in any way. Please do your own research before purchasing products or using services. Your opinions and results may differ.
a Rafflecopter giveaway