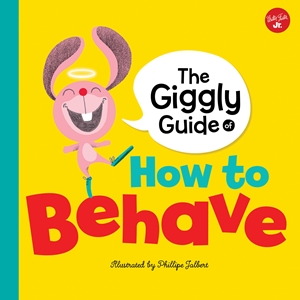 Format: Hardback, 96 Pages
ISBN: 9781633225244
Published: March 6, 2018
Book Overview:
Mind your manners! There's more to good manners than just saying "please" and "thank you"! With 44 simple rules on how to behave, and how not to behave, this giggly guidebook shows you exactly what it means to have good manners, and what happens when you don't follow the rules of good behavior... Kids and their parents will giggle their way through this clever and colorful guide on polite behavior, and are sure to want the companion book on how to behave at school, too.
My Review:
Let's face it, I believe most all parents want their kids to behave and they sometimes have to find funny ways to get the point across. The Giggly Guide of How to Behave definitely gets lots of points across with silly scenarios. Using a group of pink rabbits and other lively animals, children are shown silly reasons why they should or shouldn't do something. There's the basics like "You should always cover your mouth when you sneeze!" and "Don't speak with your mouth full." Then there's the more embellished like "You shouldn't pee in the pool." and "It's never smart to tinker with tools or the plumbing." Prismatic colors and illustrations give this book an elevated dynamic. As the title implies, I think kids will get lots of giggles from this book.....and hopefully it will help with behavior!
Win It!
*This is a Rafflecopter giveaway open to residents of the USA and Canada.*
a Rafflecopter giveaway
I received book for review from
Quarto
. The opinions within this post are of my own and I was not influenced in any way. Please do your own research before purchasing products or using services. Your opinions and results may differ.