Anybody that knows me is well aware that I'm still a kid at heart. My body might be aging but I refuse to let life slow me down. For several years now, I've been collecting cute, odd, and kitschy merchandise. I now have a Belly-Rub Pup added to my collection, hanging out in my office.
Belly-Rub Pups
are adorable, quirky plush toys that provide a fun and unique method of stress-relief for users of all ages. Designed to playfully introduce proven stress management techniques through a unique three-step stress-relief approach of rub belly-breathe-laugh, Belly-Rub Pups are available in four unique characters.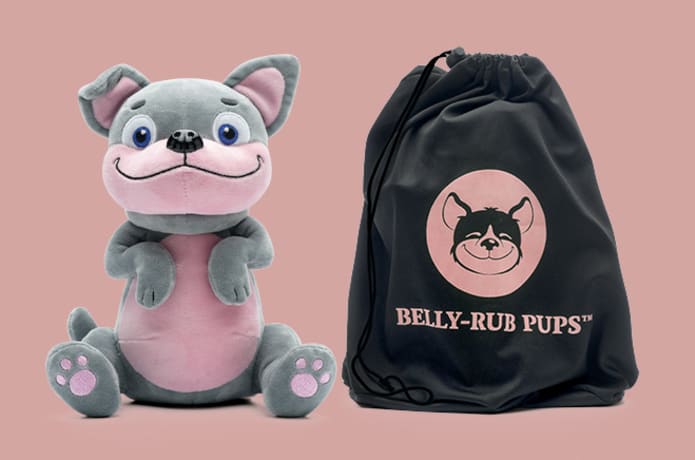 FRANKIE (mindfulness) - the centered soul-man who is calm in the storm, knows that in order to be stress-free, you have to look after your inner-self.
CHICA LOCA (exercise & fitness) - the exercise freak who is insanely passionate about what she loves, gets easily hyped and is always ready for action.
NORMAN (mental health) - the brain who is not only the cutest, but also the smartest friend, is not averse to snuggling while attempting to solve for X, Y, or stress.
ROMEO (pure love) - the charmer and a sensitive dreamer, he knows that nothing makes you happier and more relaxed than feeling loved.
The
Indiegogo Campaign
features limited Early Bird specials of $25 USD, as well as several other perks for backers.
Whether you stress out a lot or are generally calm, you can't go wrong owning one of the Belly-Rub Pups. They're just too cute not to make you smile. These tongue-in-cheek plush toys will turn stressful moments and personal fails into "belly-rub" moments, allowing users to relax, have a good laugh, and remember to keep a playful outlook on life.
Belly-Rub Pups are intuitive and do not require any lengthy training before positive effects can be felt. Adorable and irresistible with their witty and friendly expression, Belly-Rub Pups add a little lightness to users' lives and help make them laugh more often. As an added bonus, each one comes with its own carry-along drawstring pouch.
I received product for review. The opinions within this post are of my own and I was not influenced in any way. Please do your own research before purchasing products or using services. Your opinions and results may differ.