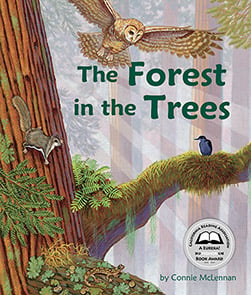 Book Overview:
It's common knowledge that coast redwoods are tall, tall trees. In fact, they are the tallest trees in the world. What most people don't know is that there is a whole other forest growing high in the canopy of a redwood forest. This adaptation of The House That Jack Built climbs into this secret, hidden habitat full of all kinds of plants and animals that call this forest home.
Written by Connie McLennan
32 pg, 8.5 x 10, Ages 3-8
My Review:
If you're at all familiar with The House That Jack Built, you know it is a cumulative tale that builds upon itself with repetition. The Forest in the Trees is a book similar to that. Using the same cumulative format, The Forest in the Trees starts out describing redwoods and goes into the creatures and edibles that can be found there. So, each page builds upon the next.
Within the sidelines of each page are interesting facts about the coast redwoods, and the animals and plants found on them. For instance, readers will learn that salamanders breathe through their skin and mouths instead of lungs. They'll also learn that lichens are two organisms growing together, among other information.
The "For Creative Minds" section at the back of the book further teaches lessons on coast redwood habitats, redwood forest vocabulary words, animals and their basic needs, and how new coast redwood trees are reproduced.
The Forest in the Trees is a Fall 2019 release from Arbordale Publishing.
Win It!
*This is a Rafflecopter giveaway open to residents of the USA.*
I received book for review from

Arbordale Publishing

. The opinions within this post are of my own and I was not influenced in any way. Please do your own research before purchasing products or using services. Your opinions and results may differ.
a Rafflecopter giveaway