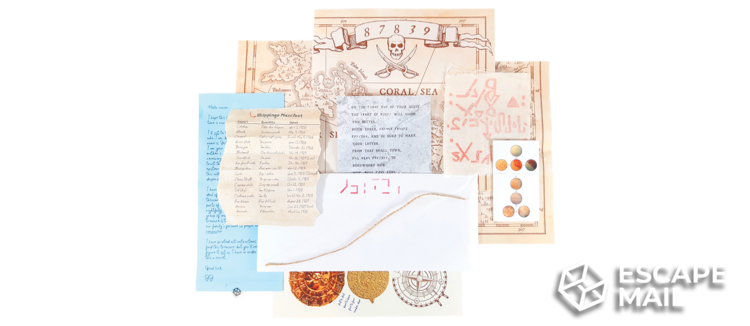 With all of us going through this pandemic, we're trying to figure out creative ways to entertain ourselves while at home. One thing I suggest is Escape Mail. It's a Mail Order Escape Game for people looking for something new and engaging to escape the lockdown blues.
Escape Mail was imagined as a result of the COVID 19 pandemic, when schools closed and Mobile Escape founders, Eric Reynolds and Paul Harvey, suddenly saw their successful education-based mobile escape room start up business vanish. Fast forward a few months and Escape Mail is now shipping its at-home escape style adventure games to 20 countries around the world.
For just $12.99 per episode, Escape Mail players get an envelope filled with adventure delivered to their homes. Each episode contains a thrilling storyline that includes a combination of physical manipulation, online and multimedia twists, and has tiered hints available at every stage if needed. The gripping storyline deepens over 12 episodes, giving players an immersive adventure to look forward to month after month. Escape Mail currently has one 12-episode season available. Players can order a single episode, monthly subscription, or buy the entire binge-worthy season for a discounted price. The company is currently finishing its first season with plans to release new games regularly to keep adventure seekers coming back for more. Players can select between difficulty level of Easy, Regular, or Hard when they purchase Escape Mail.
I was given the opportunity to try Episode 1: Family Secrets in the Regular difficulty range. I received an envelope in the mail with all contents. I actually worked together on it with my friend, Alexis. I'll admit I'm not much of a critical thinker, so some of the clues stumped me. Luckily, I was able to get on the website to receive clues when needed. Players can choose to try to master the entire thing on their own or use clues online that will help further them along. I did end up having to use a few of the clues, but it wasn't without trying to figure it out on my own first. It took a couple of hours for me and Alexis to play Episode 1. Players can choose to do only one episode and it's a fun, interactive way to occupy your time. But, if you want to continue the storyline, I suggest you purchase the monthly subscription package. After all, don't you want to know what happens to the character next?!
Alexis, my Escape Mail partner
I received products for review. The opinions within this post are of my own and I was not influenced in any way. Please do your own research before purchasing products or using services. Your opinions and results may differ.