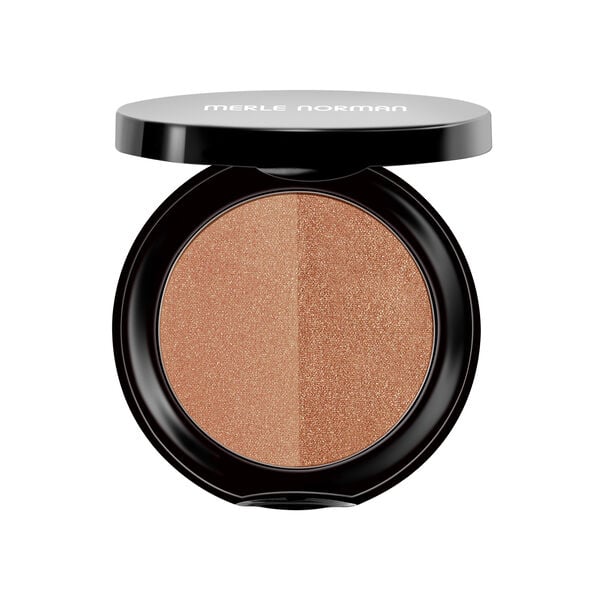 I'm by no means a beauty expert and couldn't even tell you how to create a perfect smoky eye. I could definitely use pointers on correct makeup application. I do, however, wear makeup almost every day. I've tried many, many brands and shades. I like to experiment with different colors. Although I'm not qualified to explain how to flawlessly apply makeup, I think I'm fairly well-versed in which brands are worth the buy. I've been a fan of Merle Norman Cosmetics for a while now and was excited to try their new Bronzing Powder Duo.
There's something about that healthy summer glow that has us feeling fabulous. But when seasons change we lose that sun kissed look and need a little boost. Merle Norman Cosmetics Bronzing Powder Duo is all you need to look like you are relaxed and refreshed (even though who really is these days). Fake it till you make it is real - even when it comes to the sun on our skin!
Available in two colors (Satin and Matte), these bronzers, provide a gorgeous healthy glow in one beautiful compact without the fake orange hue that is often associated with bronzing products. The bronzers feature Tri-Microsphere Technology to help blur fine lines and control shine, while Vitamins C & E provide antioxidant protection.
The lighter shade is to be used on cheeks and the deeper shade around the perimeter of the face. Or, you can sweep over forehead, nose, cheeks, and chin with a brush.
Using this combination of bronzing colors on my face gives it a nice, subtle glow. It isn't weighty and gives my face a summery, polished look.
I received products for review. The opinions within this post are of my own and I was not influenced in any way. Please do your own research before purchasing products or using services. Your opinions and results may differ.